Buckle up & Build with Cosmos
13/09/2022 @ 18:00

-

14/09/2022 @ 0:00

Free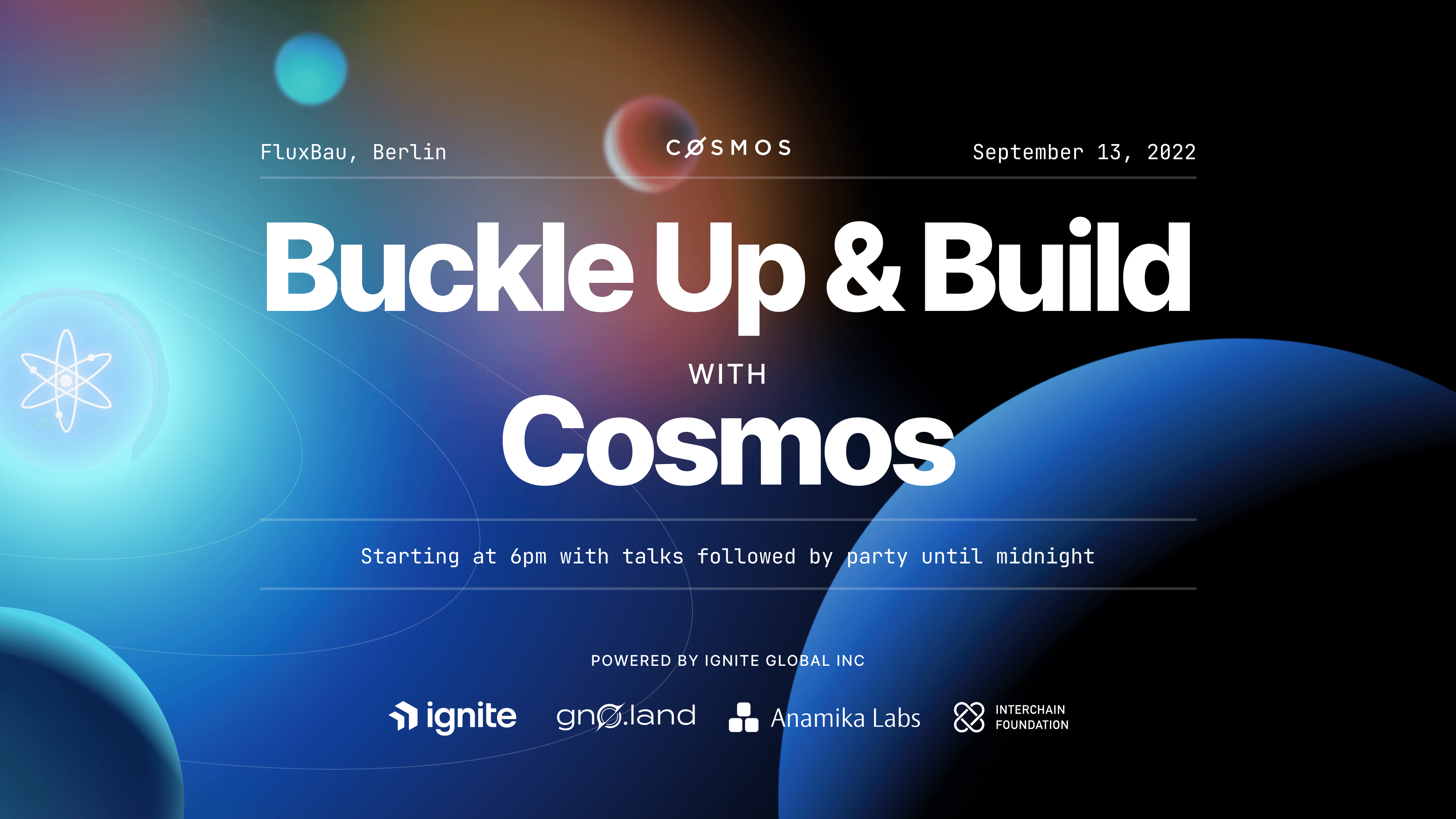 Buckle Up and Build with Cosmos
Summary
Builders, investors, and crypto-curious join us at our after-hours event during Berlin Blockchain Week to learn more about the thriving Cosmos ecosystem, its powerful tech stack, and the innovative projects working to grow the Internet of Blockchains. The event follows with drinks, tacos and music.
Description
Cosmos, an ever-expanding ecosystem of interconnected apps and services, invites you to join us in building the decentralized web! Buckle Up and Build with Cosmos will give you an overview of the powerful tech stack underpinning the Cosmos ecosystem and show you how easily you can build your own sovereign application-specific blockchain. You'll also hear from some of the most innovative projects coming to mainnet soon and the problems they're aiming to solve.
Don't miss your chance to learn, meet the projects' teams, network, and share a glass or two with passionate core Cosmos contributors and like-minded cosmonauts during one of the most popular blockchain events of the year. Complimentary drinks and tacos will be served.
Event Schedule
18:00 CEST: Doors open to welcome you to the event.
19:00 CEST: Keynote, "What Is Cosmos SDK and How to Use It to Customize Your Chain" with Marko Baricevic, Project Lead Cosmos SDK at Interchain. This informative session will cover Cosmos SDK's highly customizable modular structure that lets you build and combine battle-tested SDK modules for your blockchain for specific user requirements. Find out more about the world's most popular blockchain application framework and the many projects built with it.
19:30 – CEST: Keynote, "Build your Blockchain with Ignite CLI in 10 minutes" with Denis Fadeev, Core Contributor at Ignite. A hands-on session that will highlight Ignite CLI's many features and show you how easy it is to build your own sovereign application-specific Cosmos blockchain. You'll also get a look at Ignite CLI's advanced features to build your own client to interact with your blockchain in Go or Typescript.
Short Break
20:30 CEST: Keynote, "Intro to Gno Smart Contract Platform and Blockchain" with Manfred Touron, Core Contributor, at Gno.land. Find out about the next generation of interoperable concurrent smart contracts that aims to solve problems with existing blockchain ecosystems such as lack of transparency and fairness for real contributors. Using the Gno programming language (like Go but more ambitious), Gno provides a simpler way to build scalable smart contracts.
21:00 CEST: Keynote, "Your Gateway to Enabling Self-Sovereign Identity on the Cosmos Ecosystem" with Martin Schäffner, SSI Software Engineer at Anamika. In this insightful session, you'll discover Anamika's mission to bridge the gap between the digital world of cryptocurrencies and the real world, and what the team is working on — from decentralized identity management to cryptocurrency functionalities that provide new possibilities to manage values in regulated environments.
21:30 CEST: Party time! Socializing begins, lasting until midnight, including food, drinks, music, and networking!